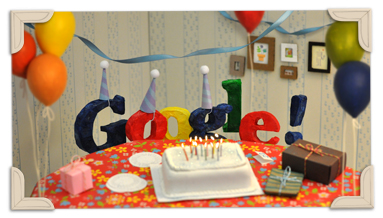 Search giant
Google
has entered teens today, the tech behemoth has turned 13. Officially a teenager, Google celebrates its birthday with a doodle that shows the five letters of the company logo wearing party hats placed around a cake with balloons and gifts around.
A click on the doodle takes visitors to a search result page on Google. Larry Page and Sergey Brin started Google Inc in September 1998 with four computers and an investor's $100,000 bet on their belief that an Internet search engine can change the world.
The company though filed for incorporation on September 4, 1998, and Google.com domain was registered on September 15, it officially celebrates its birthday on September 27.
As Google enters its 13th year, the company faces increasing legislative scrutiny and increasing competition from social networking giant Facebook. Google Inc has evolved to become a dominant and potentially anti-competitive force on the Internet, US senators remarked at a recent congressional hearing.
"Google is in a position to determine who will succeed and who will fail on the Internet," said Republican Senator Mike Lee, a member of the Senate Judiciary Committee's antitrust panel. "In the words of the head of the Goggle's search ranking team, Google is the biggest kingmaker on Earth."