Able2Extract Pro 12 is a PDF editing tool. There is no alternative to PDF conversion software when it comes to working with PDF files.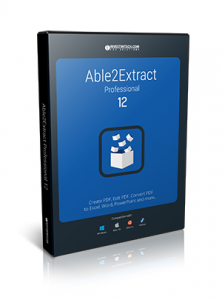 Able2Extract is a cross-platform PDF editor for Windows, Mac and Linux. It's able to edit and annotate PDF files, but the focus of the program is on customized exports of PDF files to Microsoft Word, Excel and other formats. It is a must-have tool in every business environment, because it simplifies and speeds up the process of manipulating data locked down in the most popular format for sharing and archiving documents. Able2Extract Professional 12 has all it takes to create and convert PDFs smoothly, and the latest version offers upgrades and improvements that make this product an ultimate solution to any business professional's PDF conversion needs.
New features in Able2Extract Professional 12
PDF Forms Filler
With this newest addition to Able2Extract Professional 12, users can now fully interact with and fill in PDF forms. Users can input textual data, specify options with radio buttons and check boxes, and select items from lists and combo boxes. PDF forms can be submitted or saved.
PDF Form Editor
Users can even edit and create fillable PDF forms. They can leverage some of the most commonly used form fields to gather the data they need. Able2Extract Professional can generate PDF forms that contain text fields, radio buttons, check boxes, combo boxes, list boxes, and push buttons. All form fields can be customized.
Insert Bates Numbering
PDF pages can now be easily indexed in Able2Extract Professional with the ability to add
Bates Numbering. Users can customize the formatting and position of suffixes, prefixes, and text. They can create and apply bates numbers across legal, business, and medical PDFs for quick reference.
Add Blank PDF Pages
Able2Extract Professional is now better equipped to edit PDF files by allowing users to
insert blank PDF pages. This new version makes it simple to include one or more blank
pages into existing PDFs. Moreover, the pages can then be edited as any other page in the PDF document.
Upgraded Batch Conversion
Users can save even more time on batch conversion jobs. This latest version allows users to upload entire directories. Able2Extract can now automatically scan the folders for PDF files which it will then automatically convert.
Enhanced PDF Text Editing
On top of editing PDF text and pages, Able2Extract Professional 12 comes with an enhanced PDF editor that will detect blocks of text. This means users can edit text in PDF paragraphs. Users can even adjust the alignment and position of PDF paragraphs as needed.
Download and Pricing
Able2Extract is available for Windows, macOS, and Linux. Before buying this app, you are allowed to fully test for 7 days. You can download here. There are three types of licensing:
Individual licence (single-user licence) – 149.95$
5 user licence (single-user licence pack) – 749.75$
10 user licence (single-user licence pack) – 1499.50$
Individual licence should be ok for common use.
Summary
All in all one of useful tools that can be found on the internet. And since there is a trial period there I would encourage you to test it out. It did the job for me 🙂